How does Donation help MBBS Students?
Medical education is a lengthy period of learning in which a student must devote at least five years of their lives to obtain the primary degree to practice medicine as a medical professional. They must commit at least another three to five years to become a specialist in a branch, and it may take at least another five years to prove their worth and expand their profession after that. As a result, a medical student's potential earnings do not begin until they are well into their 30s, and it will take another decade before they have paid off their student loans. Many bright students are discouraged from pursuing the profession as a result of such circumstances.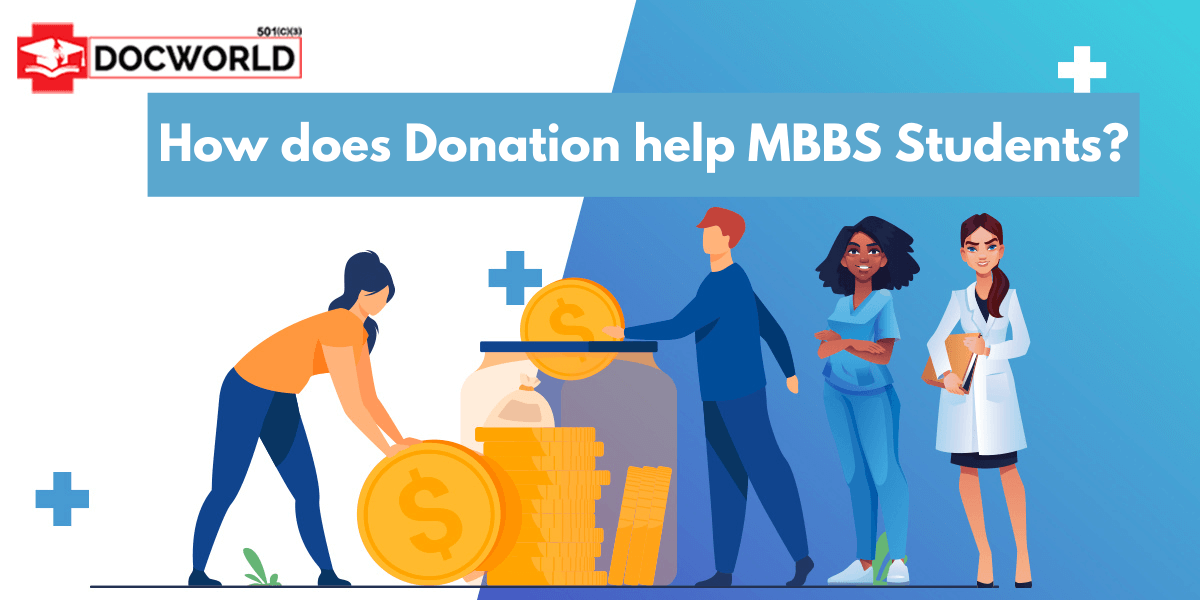 The course content as well as the high admittance requirements are both intimidating. With numerous challenges, many students from low-income families apply for the course. Although the government subsidizes their course fees, many other costs are difficult for students to manage over a lengthy period, such as five years. As a result, donate for doctors and help them continue their education.
What can one do to help medical students?
You can donate cash because they usually require money to pay for tuition, living expenses, buying stationery, books, and other student-related fees. Many of the students that need assistance are from low-income families who cannot rely on their relatives for anything. Their education is a significant financial investment for the family, as they will lose one income earner to college. Many students come from local medium schools and must abruptly expose themselves to studying in English and Latin, thus not everyone can manage to work and study. These students must be supported financially for the next five years to fully immerse themselves in their studies.
Many medical textbooks are not available in India and must order from outside sellers. Furthermore, buying older books is not always a good idea because the medical field is always evolving, and new results and approaches will not be reflected in ancient texts. You can donate medical textbooks by sending them books, which will save them a lot of money on new books. You can also donate laptops for medical students, medical magazine subscriptions, and research papers to medical students to help them learn and understand the subject better.
How can you help medical students by donating?
Making a donation to medical students used to need being approached by an organization and acting as their supporter, which was out of reach for many willing donors. Today, however, it is much simpler to donate to doctors through trusted websites that accept various payment methods. Plus, there's more. Because the payment is made through a recognized website, you may be eligible for tax benefits for your contribution. Students want more than simply money; they also require medical equipment, laptops, and, most critically, medical textbook donations. Thus, donate laptops for medical students, medical books, and other items.
You can donate to medical students through doctor's portals, which were established by doctors to help individuals in need and promote the cause of medical sciences. These are the best methods for providing financial aid to medical students because they discover qualified individuals and provide assistance in the form that best suits them.
Why should you be a supporter of the medical profession?
We go to doctors for help when we are in pain, whether it's a physical or mental ailment. They figure out what the problem is and recommend the best remedy for us. The world needs good doctors who are motivated not by profit, but by basic human empathy and a passion for their subject, which will enable them to not only serve people but also to reach the pinnacles of their profession. To develop medical science and the betterment of humanity, it is necessary to ensure that those who will be new to the field have strong moral fiber and are skilled in their specialty. When we donate for doctors and assist them in completing their studies with minimal financial strain, we can do a lot for the medical community and humanity.