Plagiarism checker tools are online tools that help writers to check for plagiarism. These tools scan content and detect the duplication of text. Various writers, webmasters, and bloggers utilize these tools for checking plagiarism in their writing.
Duplicate text is a major cause of lower ranking on search engines. If anyone creates copied content, it is harmful to their website. Search engines detect duplicate content and they don't like it. They penalize the websites that host duplicate content by
Lowering the ranking of the website
De-listing the website from their index.
In this article, you will learn how to detect duplicate content utilizing a plagiarism checker. After using these types of tools, you can easily detect duplicate sentences, phrases, and paragraphs.
How do Plagiarism Checkers Work?
Plagiarism checkers work by scanning the given content against a database to see if there is a match between the existing sources and the entered content. Most online tools also check the content against billions of online sources.
After the detection of copied content, a plagiarism checker provides the sources of duplicated text. It shows the percentage of duplicate and unique content.
How to Check for Duplicate Content Using Plagiarism Checkers?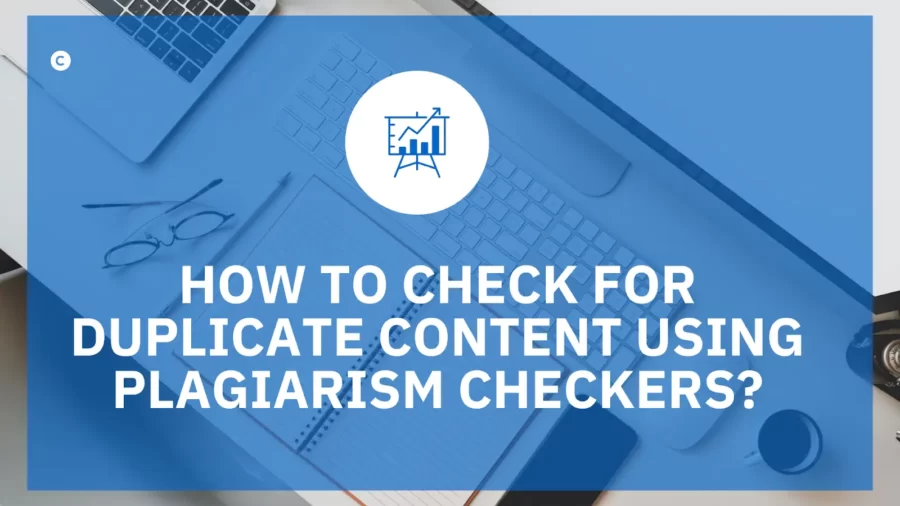 Here we will describe how to detect duplication in your content by using plagiarism checkers. After reading this article, you can easily detect duplicate text with a plagiarism checker.
1. Select a Tool
First of all, you should select a good plagiarism checker to detect copied content. There are various tools for checking plagiarism on the internet that is provided by different websites. For selecting a tool, you should take help from Google because it provides a large number of results.
Here are some features of a good plagiarism checker and you should look out for them while choosing a plagiarism checker. It will be easy for you to pick a suitable tool.
It should have a large word count limit
It should have the option of uploading files
It should show plagiarized content and unique text in percentages
It should allow you to write or upload a file without a login
It should support different languages for checking duplication
All the above features are present in a good plagiarism checker. You should use any plagiarism checker that has most of these features.
2. Import Content
After selecting the plagiarism checker, the main thing to do is to import content into the tool. A plagiarism checker can provide different options for importing text.
For example, depending on the tool you're using, you may be able to upload a file directly from your device or you may be able to import one from Google Drive. You will have to check the importing options in your particular tool.
3. Check and Finalize
After getting your content report, you will need to check it to get an idea of the plagiarized text in the content.
The report will highlight duplicate sentences and phrases. After seeing the duplicate parts clearly standing out, you will be able to take the necessary steps to remove them or edit them.
Conclusion
In this article, we explained what are plagiarism checker tools, plagiarized content, and the functions of a plagiarism checker.
Afterward, we learned how to detect duplicate content. There were three main steps involved i.e selecting a good tool, importing content, checking and finalizing the content.
Also Read How Can Long-Form Content Result in Better Search Rankings?