Battle Pass In Lost Ark: Release Time, Features, Functions, And More
Battle Pass In Lost Ark
We'll take a look at the rumored Battle Pass leak for Lost Ark: The Game, including an expected release window, what it might feature, and how Ark Pass functions.
Release Date, Reward Levels, and More Content Coming to Lost Ark's Ark Pass
An instructional video for the PvP Proving Grounds and the ranked season was recently posted on the official Lost Ark YouTube channel. It's worth noting that in that particular game build, you can clearly see the Ark Pass & Lost Ark Battle Pass emblem. While the Glavier and South Vern content has already been released, community manager Rocks teased us with the possibility of a surprise addition in the form of the Lost Ark battle pass, hinting that there would be more to look forward to with this future update. Here's everything you need to know about the upcoming Battle Pass for Lost Ark.
What Is the Ark Pass for?
As with many other battle pass systems you've seen in other games, The Lost Ark Battle Pass was introduced last summer. The more experience you gain, the more levels you gain, and the more benefits you receive through the Battle Pass. When it comes to Battle Passes, there are two options: one is a free pass that provides perks like crafting materials, while the other is a $20 premium pass that provides additional benefits. But in the Korean version of the Lost Ark battle pass, there is also a super premium track that costs $50, which provides you even more goodies on top of the premium track.
Release Dates for the Ark Pass and the Battle Pass
The Ark Pass has yet to be officially announced, so there's no way to know when it will be available. The content roadmap for April and May of 2022 makes no mention of a Lost Ark Battle Pass. Because of this, we may estimate that the Ark Pass will be released no earlier than June 2022. The Ark Pass is good for three months in Korea, at least.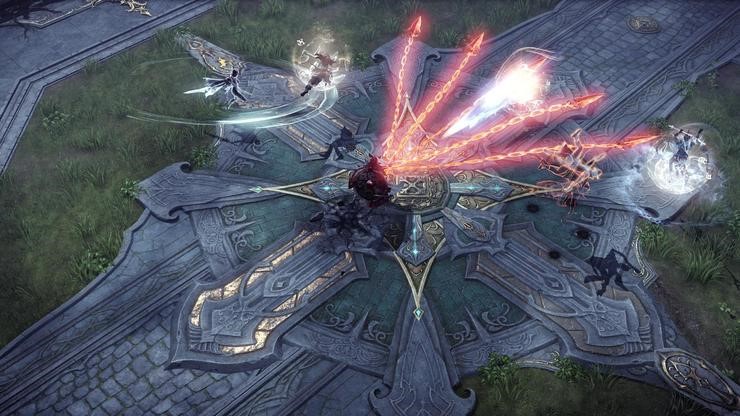 Ark Pass in Lost Ark – Tiers, Costs, and Rewards
There are two Ark Passes for the Korean version: the free pass, which provides a variety of benefits, and the paid pass, which costs money. First paid version which is 19000 royal crystals puts in additional awards such as gem boxes and more pets for tier 3 as well as the benefits from the free version and the super premium version which is 49000 royal crystals. Then there are additional rewards for tier 3 such as more honing materials. Each tier provides daily assignments with experience and rewards as you increase your pass' level. You must be at least level 50 to purchase the Super Premium pass. Additional cosmetic incentives, including as skins that may be used on any class, wallpapers for your character choosing panel, and then some blue crystals are also included in the bonus content.
The Ark Pass will not be well received if it is simply a copy and paste of the existing system, because in all other western games with battle passes, there is a free version that grants some benefits and a paid version that grants all of the other benefits. This is the standard and it is not overly expensive.
It's a little more expensive to acquire the super-premium edition of the battle pass if you're looking to get the cosmetics that come with it. In order to make it more widely recognized, there are a few things that may be done:

It's possible to buy the premium battle pass with crystals, which would allow free-to-play gamers to farm lost ark gold, buy crystals, and then buy the more premium versions of the battle pass. This would allow them to buy the more premium battle pass. If things were done this manner, it would be more widely recognized, and it would also be the most friendly to free-to-play gaming practices.
A second option is to remove the super premium pass, put the cosmetic prizes in the premium version, have the reduced pricing, and then it would just be like most other western battle passes where it's just the free track, then the premium track.
In order to allow free to play gamers to obtain the honed prizes, a third option would be to offer a free pass to the first premium track, which would thereafter be available for purchase with crystals. There is also a track that is only playable with royal crystals and it is the only one that offers additional cosmetics. They know that if they just copy and paste from the Korean version, it won't be well received and they have precedent in the Western version to show that they are willing to make things more free-to-play friendly and less pay to win in our version of the game, so they won't be releasing it like that.
This is supported by a number of factors:
The first thing to note is that in our version of the game, swapping pet stats is completely free. Changing to a new set is as simple as going to the pet manager and selecting a new stat; there is no fee involved, and you simply get to pick which one you wish to use. It's a different story in other versions: to change your pet's attributes, you must spend crystals, and you can't even pick which attribute you want; instead, it alternates between all of them at random, regardless of what you pay for. To acquire the desired stats on your pet, you're just throwing crystals into a random number generator. There you have it: a significant method in which they improved our version of the game so that it is more free to play friendly!
Second, crystals can be used to purchase the crystalline aura or the optional sub for the game. The crystalline aura is available for a month for 420 crystals, which free to play users can obtain to Buy Cheap Lost Ark Gold. The crystalline aura isn't available for free in other versions of the game, and our version of the shop is significantly reduced in comparison to the others. For example, in the crane version, you can literally buy huge resource packs for $50 or $60 that give you massive quantities of honing materials.
Battle passes in Lost Ark can be a convenient way to obtain additional hone materials and other rewards in the game. Having said that, what are your opinions on this potential addition? What do you think about the inclusion of a Battle Pass to the game?